Becky Brown – Bronze Life Master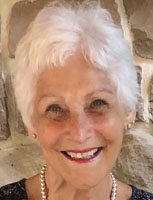 I'm thrilled to learn that I have achieved bronze life master status. I just earned my life master status while playing with my brother Dan Brown who lives in North Carolina – I live in Lancaster PA – on December 18 in the Winter Wonderland online event.
My parents, particularly my dad, drug me kicking and screaming to the bridge table when I was a teen. But when I retired I didn't really have any plans so I went to a bridge class. Well, that's all it took – most of my friends now are bridge players we all started together in the same class. It is my friends who I credit for my achieving this rank. They played with me at the club and in tournaments. I owe them a lot.
Also at the club an A player once held up a green pass card and said Becky let me introduce you to the pass card. So also to those who encouraged and gave me advice, I owe this rank title.
Bridge helped get through 2020.