JANE SEGAL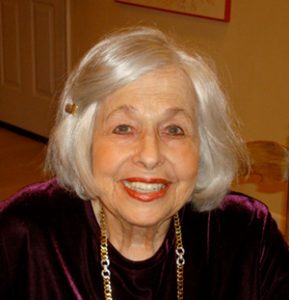 PLAYER OF THE YEAR AWARD
(0-500 MASTERPOINTS)
The Jane Segal Player of the Year Award is given to players who are members of our District for the entire year and who start the calendar year with less than 500 masterpoints and earn the most masterpoints in District 4 tournaments.
The winner will be recognized at the Valley Forge Regional and will receive a certificate and a $100 cash prize.
Jane Segal taught bridge since 1970. She founded the J & J Bridge School in 1973 which continued for 37 years. Jane took pride in the hundreds of students who play regularly and started with her.
Jane coached bridge teams at nine country clubs (some for over 20 years) and taught at three others.
Jane won many regional events. The first was in 1969 and made her a Life Master. She placed in the top 10 in 4 national mixed events and more than a dozen women's events. She became an Emerald Life Master.
Jane served on the Board of Governors for 30 years and also as President of Unit 141 and District 4.
Our Winners:
2022 – Bobette Thorsen
2020-21 – Awards Suspended During Covid Pandemic
2019 – Craig Netzley
2018 – Mark Bolotin
2017 – Ornit Grossman
2016 – Claire Rolin
2015 – Bruce Young
2014 – Samuel Amer
2013 – Bruce Lang
2012 – Joel Bees
2011 – Gary Hillenbrand
2010 – Ella Zimmerman
2009 – Ronald Hutchinson
2008 – Ethan Kotkin
2007 – Ethan Kotkin
2006 – Elaine Weintraub