DAVE TREADWELL
PLAYER OF THE YEAR AWARD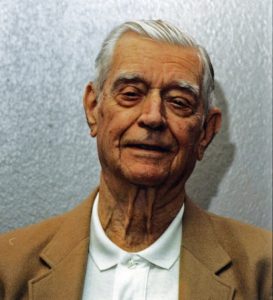 The Dave Treadwell Player of the Year Award is awarded to the District 4 member who earns the most masterpoints playing in District 4 events in the calendar year. It is open to all players who are members of our District for the entire year. The winner will be recognized at the Valley Forge Regional and will receive a certificate and a $100 cash prize.
Dave Treadwell was a Grand Life Master who was named ACBL Honorary Member in 1985 and inducted into the ACBL Hall of Fame in 1998. Dave won two national championships, had second place finishes in several others, and had well over 100 regional victories. When he passed away in 2010 at the age of 97, he had over 26,000 masterpoints.
For a number of years, Dave was involved in Unit and District administrative activities and was twice President of the Delaware State Bridge Association (1961 and 1976) and twice President of District 4 (1968-69 and 1973-74). At the national level, he was co-chair of the ACBL Appeals Committee from 1975 to 1991, chair of the ACBL Board of Governors from 1979 to 1981, and Chair of the Hall of Fame Committee from 1995 to 1998.
Our Winners:
2022 – David Hoffner
2020-21 – Awards Suspended During Covid Pandemic
2019 – Daniel Boye
2018 – Meyer Kotkin
2017 – Barry Gorski
2016 – Barry Gorski
2015 – Martin Rabinowitz
2014 – Rick Rowland
2013 – Ken Cohen
2012 – Ken Cohen
2011 – Ken Cohen
2010 – Ken Cohen
2009 – Ken Cohen
2008 – Ken Cohen
2007 – Tom Weik
2006 – Jay Apfelbaum
2005 – Craig Robinson
2004 – Rick Rowland