Carol Greco – Life Master – by Carol's friend, Sherry Shapiro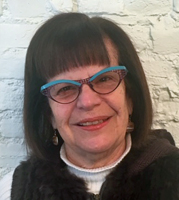 Carol's a thinker – she's sharp as a knife
She's known as a realtor, a Mom and a Wife
A good friend who'll guide you through moments of strife
And NOW she is also: Bridge Master … for Life!
She shows us how purpose and focus and wit
And smarts and attention, and go-for-it grit
Can lead us to conquer, to fly and to sail…
How one's hopes and one's dreams can come to prevail.
What is this magic the Greco's display…
When they open a bridge hand, then bid, and then play?
They're awfully good at it, in fact they're so great…
Eric bids 7 No-Trump, and somehow makes EIGHT!
Though Eric and Phil have progressed a bit faster…
Carol is proudly a new Bridge Life Master.
So let's raise a glass and give her a cheer,
Soon (wait and see!) – she'll be "Champ of the Year!" **
** Note to Eric:
Here comes your Mom and she's up on her game
So if you like your titles, if you like your fame
You'd best watch your back, and compete just like hell
Or it's Mom who'll be featured by ACBL