Chris Eaton – Bronze Life Master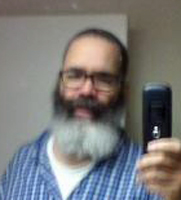 After playing family bridge since before I was a teenager. I started playing duplicate bridge over 20 years ago as a tribute to my mother who was dying from cancer. With a month to go, I found out that I was the likely winner of rookie of the year. When I went home the Wednesday before Thanksgiving, I placed a copy of the paper in my mothers hand with the information showing I was likely the rookie of the year. My mom passed away the next day (Thanksgiving) holding that paper. She was cremated with it.
I finished the year 11th amongst all rookies in the nation and the top rookie in the state. It took me about 2 and half years to become a life master. After becoming a life master, I cut back playing to once or twice a year.
Due to the recent events, I joined the Bridge Base Online website. I have been playing daily since joining it.
The person I consider to be my mentor is Brian Sann (May he rest in peace). The person I first officially played with at the club was Jenn Fahnestock (daughter of Carl) (I state officially because I did play with Bobbie Smith once, but it was before I even considered becoming an ACBL member). Carl is the person who told me about the Bridge Base Online website. He is also the person who is helping to ensure that there are no sit outs for the games by having a backup pair ready to play in case of a half table. I mention this because I am one of the people who Carl has lineup for some of the games as a backup player.