Joy Pollock – NABC Master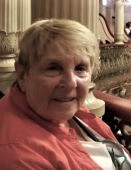 I grew up in a household of card players. My father started playing bridge in college, taught my mother, and played competitive bridge all of his life until he attained bronze life master. Since he felt that he played too much bridge and spent little time on his studies in college he refused to teach me until I was out of school. He taught four students at a time and donated his earnings to one of his favorite charities.
Finished with my education and married, with another couple, my late husband and I took bridge lessons from my father. My husband would say that he was preparing for the Spanish Inquisition. My father made each of his pupils think not just do every move by rote. I was 26.
My husband and I joined a small country club with a nine hole course, but everyone played bridge. I found a partner, Ruthie Frank and we started playing for the country club team in the matches between country clubs. We worked on the hands from the matches and took lessons from Arthur Robinson who was very much a teacher like my father, think, think, but no Spanish Inquisition. Ruthie and I did not play competitively other than at the country clubs.
When at Meadowlands Country Club, my partner, Shelly Kaufman, and I started playing duplicate at Meadowlands and a few outside tournaments. When we left there and went to Philmont Country Club in 2000. My first partner, Ruthie Peskin, encouraged me to play tournaments with her as well as play at bridge clubs. Philmont decided to have weekly duplicates at which master points were awarded. My next partner was Millie Jonas who truly pushed to play in tournaments and so I over time was able to accumulate the points in each category except gold that I needed to become a Life Master. I needed only 2.80 gold points and had no desire to go to any tournaments to get those points.
In the spring of this year, the district posted the GNT swiss team event. We were talking about it on zoom with our teacher, Joann Glasson, and one of the Philmont women asked if I would be interested in being part of the team. When she told me that gold points were being awarded, I said I would be happy to play online. Our team pulled together and played an outstanding second round that brought the team into third place. For the final, we tied for 3rd and 4th place and were awarded 6.80 gold/red points. It was enough to give me the gold points I needed to become a Life Master. I am grateful to my team mates, Susan Packer Rubin who arranged the team, her partner, Judith Kramer, and my partner, Elaine Kieserman.
It was 71 years since I had a bridge card in my hand, but as they say "better late than never."