Judy Simkins – Life Master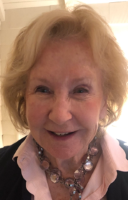 I have been playing bridge for a a very long time When all my friends were going to tournaments I was either playing tennis, bonding with grandchildren or collecting vintage costume jewelry.
When I was interested in goals at bridge, my friends either had their gold or weren't interested. So off I went on my own to some tournaments. Many times landing up at the partnership desk with success. I still don't understand why when playing with people I take lessons with didn't bring much success. I was fortunate to get a few gold points at clubs online.
Because I was really close I played in the last ACBL tournament with a girl from the partnership desk from Portland Oregon. Finally I got that last point!