Aileen Watkins – Bronze Life Master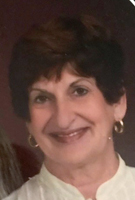 Bill and I started playing Bridge in the 1960s – our first hobby together. We discovered Bridge was a great way to meet people and develop friendships. We enjoyed party Bridge until we were invited to play in a Duplicate Club. It was then Bill decided we were moving on to Duplicate.
Upon our retirement in 2000 the Farquhars introduced us to ACBL and bidding boxes! They took us to Dini's game and we met Southern Delaware's Bridge Ambassador. It wasn't long before we formed a partnership with the Coars and hit the road in the hope of earning the coveted title of Life Master. In less than four years we logged many miles, met lots of nice people and earned that Life Master designation. We were encouraged by Joe Botkin and Kim Kvalnes in District 6 to become certified Directors and form a club and give back to the game. Around 2005 we took a break from Bridge to enjoy our outdoor hobbies: golf, hiking, biking and yard work. After a five-year break and slowing down physically it was time to return to playing Bridge – the hobby that we started when we were first married. As we began earning points we set our sights on Bronze Life Master. We looked forward to our weekly outing to stimulate our brains and, of course, meet new people…the reason we started playing Bridge back in the 1960s. We did not expect to earn over 200 points so quickly but we've had fun doing it. I remember telling Dini that Bridge was the best thing for our marriage because we had to improve our communication.
Looking back, Bridge has always been an important part of our life and the hobby that we have enjoyed all of our married life. We are grateful to ACBL and Districts 4 and 6.