Anola Vance – Junior Master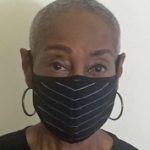 My bridge story began three and one half years ago when I joined the American Bridge Association.   I was informed about the American Contract Bridge Leagues' wonderful monthly Bridge Bulletin and immediately joined the ABCL two and a half years ago.
I briefly participated in Wendy Dechadarevian Thursday morning beginner bridge classes with Mardi Holliday as my partner and played a few Thursday beginners games at Raffles in 2013.  Unfortunately, I am only able to play at Raffles during July and August, which really limits my ACBL playing time.  I just completed my third ACBL sectional tournament on October 10, 2014, played in one Swiss game in July, 2014 and played in several sanctioned games aboard the Holland America line this past spring while cruising to India.  Needless to say, as a new player, earning ACBL points has been a long and arduous task – but I study and read bridge materials and books weekly.
Learning and playing bridge has been intellectually stimulating and challenging.  I am truly grateful to learn from experienced players that have guided and encouraged me.  A special thanks to my teacher and partner, Clayton White for his patience, mentoring and continued support!