Anola Vance – NABC Master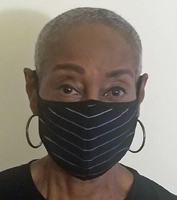 While I'm pleased that I reached the NABC level – getting there was quite a challenge being confronted with the coronavirus and club closures. Out of adversity comes new challenges, opportunities and lessons to be learned!
I don't always have regular ACBL partners and had to take my destiny in my own hands by traveling weekly to the wonderful South Jersey Bridge Center in Cherry Hill, NJ before the Covid-19 shutdown. It's appropriate to use the adage " it takes a village " and I would be remiss if I didn't acknowledge the variety of ACBL/ABA players that helped me succeed on this journey: Claude Weems, John Oehrle, Joyce Cosby, Lois Davis, Karen Hill, Geraldine Zachery, Andy Antipin and Leon Ragland – many thanks to all of you!
Hopefully, help may be coming in the next 6 – 9 months with an effective Covid-19 vaccine allowing some clubs to resume indoor playing.