Billie Ohlbaum – Silver Life Master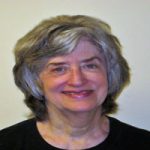 I am thrilled to be getting my Silver Life Master. My mother, who played duplicate till she was 100 years old, would have been very proud to see me achieve this.
My husband, Paul, is usually my partner and I believe our 53 year marriage as well as our long bridge partnership has survived because whatever happens, he always says it was his fault. Who can argue with this?
Together we have taught and I've directed on many bridge cruises as well as at our local club, the Mohawk Valley Bridge Association. I am proud to say our club is one in which everyone gets along and seldom does anyone have to be reminded about behavior. Everyone seems to enjoy each other and the atmosphere is definitely one of friendship and support.
There's no game like bridge and we hope to be playing it together for many years to come!