Carole and Dennis Swartz – Club Masters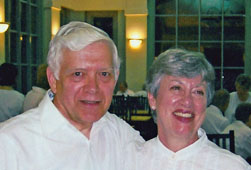 My husband Dennis and I are a pair, with matching master points – and we are still speaking to each other.
We are a blended family, and have been married for 30 years. We learned the basics of bridge separately years ago – in the Goren age – 1960's or so… We had played maybe 5-10 times together until we moved to a retirement home in Pennsylvania – it was time for us to be closer to the kids. At that time (late 2017 or early 2018) we tried several things that were new, including square dancing and duplicate bridge. Our daughter and her husband are avid (and excellent) bridge players. She was so excited that we were trying this that she found the name of a club (Bridge Studio of Delaware) which she recommended that we try. (one non-negotiable: zero tolerance for any sort of nastiness). We decided to take the intermediate lesson series – mostly so that we had some clue of what the other players' bids meant! We have adopted several conventions, rejected a few at least for the time being, and have made many mistakes along with having some successes. Did I mention that we are still speaking to each other?
We found it very amusing when we achieved the status of Junior Master – since we are senior citizens, were we "Senior Juniors" or "Junior Seniors"? So now, we can stop asking that question.
We usually play once a week here at home, then once a week at the club, in an "under 100" group. We are planning to try the "Diamond State Region Regional". later this month, both as a pair and as a team with another couple whom we met at the club.
In addition to bridge, we thoroughly enjoy singing, travel and spending time with ur family (9 grandchildren from 8-18 years. And, of course, the People Who Live With Them:). And, yes, we plan to be still speaking to each other for a long time!