David Dodgson – Silver Life Master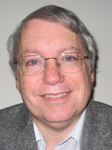 I started playing bridge during our lunch break at work with other inexperienced players. We had a pamphlet with bridge tips written by Charles Goren, and our rule was that any of us could consult it whenever we wanted. That led me to start playing in the Philadelphia Industrial Bridge League, where our company had a team where we competed with teams from other companies in the area. I played there for many years before it finally disbanded a few years ago.
My first significant tournament win was the non-master pairs at a regional. We won 8.8 points and got our picture published in the Bulletin. That got me interested to play in tournaments and I played regularly until I became what I called an eventual life master, I had all my gold/red/silver points, I just needed to get my total. However, at that point life intervened. I got married, had children, played sparingly, and it took me years to get those points. Once the kids were older I was able to start playing again regularly and became first a life master, and then a bronze life master.
One of my favorite memories is qualifying for the NA Pairs and going to the NABC in St. Louis. We made the overalls in the Red Ribbon pairs before getting snowed in for an extra day before we could leave. My teammates and I have also won several bracketed KO teams at regional tournaments. It was winning one of those that put me over the line for silver life master.