Diane Brinker – Regional Master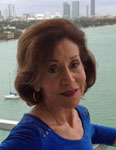 I joined Overbrook golf club about 15 years ago and took a crash course on bridge. I was placed at the last table on the third team in the Philadelphia league.
My first partner in bridge was 93 years old and was so bright and her memory so sharp that she inspired me to continue with duplicate bridge.
I continued to play team bridge and earned master points at the Ocean City yacht club and the shore Bridge club in NewJersey In the summer, and at duplicate games at Overbrook golf club in Pennsylvania in the winter months. Playing bridge has been and continues to be a great experience.