Ed Kung – Bronze Life Master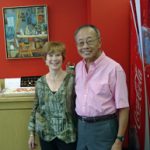 I started playing bridge in war time China in 1944, learning from a friend of my parents and Eli Culbertson's book. Next period I played was in the sixties, in an industrial league in Pittsburgh, PA. My partner was the director of the game. I learned from him and from Goren's book. After another very long absence, I resumed playing in 2009 and find the game much more interesting due to the vast literature now available. This time I am approaching the game as another language to be mastered.
I like the Zero Tolerance policy which most bridge clubs and tournaments try to enforce. I wish the convention card has a place to describe one level response to a one level opening bid. Some one level responses today are very light. I have found myself at a disadvantage when I forgot to ask the opponents about their range.