Frank Morgan – Ruby Life Master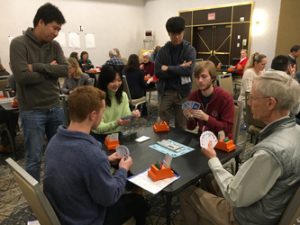 In January I taught an ACBL College Initiative course on Tournament Bridge at Williams College, where I am a Professor Emeritus in Mathematics, featured in the April 2020 Bridge Bulletin. Although I had never favored online bridge, since the pandemic I've discovered the joys of playing with favorite partners from around the world and racked up the masterpoints for my new Ruby Life Master status.
The Tournament Bridge class at a regional: Geoffrey Lu, Alex Simons, Miranda Wang, Jihoon Kim, Max Everett, Professor Frank Morgan.