Gertrude Flor – NABC Master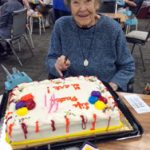 Gertrude Flor will be 94 in September. She was born into a family of wealth and privilege in a small town that was once considered part of Romania and Austria. As a child she spoke many languages and was extremely musical. She recalls her mother playing bridge with friends and "always there was yelling and screaming" and so she vowed never to learn "that game".!!!!!
Gert is a Holocaust survivor who was liberated by the Russians and then became a freedom fighter for the Czech army. Her late husband, Sam Flor, was also a survivior and was a sought after speaker to tell his story of the Holocaust to the world. (Gert could not bear to speak about it). While living in Minnesota he was with the Minnesota Symphony (a concert violinist) and there they learned to play bridge with friends.
Moving here with their daughter Gloria, Gert was a concert pianist and even played for bridge players at the Philadelphia NABC. After Sam died in 1996 a friend persuaded her to try duplicate bridge. She did so reluctantly and only went to local tournaments. She has tried to become an NABC Master for almost 20 years. Two years ago she had a stroke that affected the vision in her left eye and the use of her left arm. But she continues to play at the Yorktown Bridge Club a few times each week.
Over the years, Joan Brandeis and Miriam and Sheldon Einhorn made several efforts to play with Gert to earn the points needed to become an NABC Master, but she still needed 2.95 Gold points after many attempts.
When Susan Kestenbaum heard how close she was to her goal she enlisted several club members to try and help her achieve it this year. Ellie Goodman. Edie McAlpin and Wes Powers all agreed without hesitation to make this happen during the Valley Forge Regional's new Mid-Flight Swiss event.
The directors at the Valley Forge tournament were helpful and encouraging. Marc Labovitz made sure Gert had a stationary table for her wheelchair and an electrical outlet for her lamp. Both Marc and Marshall Kuschner made sure her cards were sorted into suits and all of the opponents were patient and understanding.
The team left the tournament feeling disappointed that she was still over one point short of her goal. Gert, however, was not discouraged and was busy making plans to try again in Lancaster. She was upbeat and on the trip home and she raved about how nice everyone was to her, including the opponents and directors.
Imagine our great surprise when we found out that the initial scores posted were revised and that Gert had, in fact, become an NABC Master! (The team earned 3.40 Gold points)
At a celebration party this week at Yorktown Bridge Club she gave a little speech expressing her gratitude to all, saying that with the exception of her daughter, she had lost everything and everyone in her life and this wonderful experience "restored my faith in humanity". She also said that "the bridge players are now my family". All Gert's friends and teammates were very touched by her words.
Many thanks go to Bruce Schwaidelson who called ACBL to question the scores in the A/X flight – the revisions corrected the team's scores also and Gert now has her 3.40 Gold points to be an NABC Master. Gert's team has named Bruce their honorary team member!