Harriet Rellis – Life Master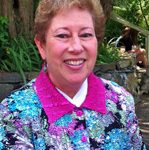 I retired ten years ago and was looking for a hobby. My husband saw an ad about a free bridge lesson, which I pursued, and I started accumulating points in duplicate bridge. My excellent teacher, Bobbie Gomer, suggested that we all go to tournaments, so I played for free in Cherry Hill, NJ on a Tuesday, because I had less than five points.
I became an addict in no time at all. Bridge opened a whole new world to me, and I met so many nice people in the process. Shortly, I was on the quest to become a life master. I've had many nice partners over the years, and I've attended regionals in Valley Forge; Wilmington; Lancaster; Cherry Hill, NJ; Hunt Valley, MD; Ellenton, FL; Gatlinburg, TN, and Saratoga Springs, NY. I also worked hard to accumulate the needed silver points at sectionals in many states. So I've had some disappointments, such as losing a match by one IMP, and some successes now that I've become a life master.
I plan to continue the quest to become a bronze life master, and also to help others achieve their goals.