Jackie Umphlet – Gold Life Master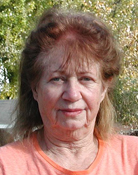 Let's see. 1990. Excellent year for California wines. Also the year I was introduced to the game of duplicate bridge. Kitchen bridge (actually we played in the living room) had become a driving force. We all tried to grab the contract. Didn't matter if we made it, went down or underbid. We were in charge. Then my sister takes me to my first duplicate game. Started to tell her about this fantastic meal I had made that night. Shush. So anyway I guess it's all going to be about bridge. 2 – 3 hands into the game, Jay Burke, sitting north bids 1 spade. My partner, Peggy, passes – Jay's partner Dennis O'Brien passed. I passed. Jay Burke went down 3 as I recall. 150 points. We were feeling good – thinking we had gotten a good board – maybe even a top. Next board, 1 spade was opened by Jay Burke with 2 spades in his hand while my sister and I had a definite 4 spade contract. We had the spades and the points to make game. (620 points). Jay Burke had psyched. My introduction to the bridge psyche.
While taking a beginner bridge lesson at the Moose, Bob Poulsen called to see if someone would be willing to fill in to complete a full table. Why not? Seated across from an elderly gentlemen. No convention card, no discussion about what we play. My many conventions – Stayman – transfers – Gerber. I was feeling pretty confident. We played. We came in first. 13 tables. Leon Gough, Billy Gough's father, was my partner. And need I remind anyone about Billy Gough's skill and winning ways at the bridge table. Leon Gough's parting words to me were – "You are the worst player I have ever played with."
1990, Adrianna Pirvulescu (Romanian – a math professor at the University in Bucharest and whom I had partnered with maybe 4 or 5 times) suggested we go to the regional in Lancaster. Her words to me: "Jackie, let me do everything – you do nothing". And that was it. Big game. I don't know exactly how many C tables, but there were a heck of a lot. The Host Hotel's seating was filled and the overflow was pretty nearly filled to capacity in the tennis court.
Game ends. Announcement over the loud speaker – Adrianna Pirvulescu and Jackie Umphlet first in section C- 12 gold. Oh yeah, sure. But there it was. Made the cover of the daily bulletin. There is something to say about accents. The day we got our 12 gold, we were playing against two men who asked what the final contract was – Adriana's and mine. She proceeded to say hearts which in her accent was heard as clubs by our opponents. We made the unmakeable contract. And against all odds, the following year at Lancaster, we were seated opposite these two gentlemen again. I said, do you remember us? Need I tell you his comment.
One of my fun times was when this gentlemen on my left picked up a paper cup with vast amounts of lipstick on it and drank from it – apparently not seeing the lipstick until after drinking. He said to me "This is your cup, isn't it?" I said "no", but don't worry you'll be okay, just go and eat a banana. " Bananas were big that year.
Present day. I'm married to Larry, brilliant in my book, who tries, really tries and keeps trying to better my bridge. What are the ODDS?