Jeanne Parrett – NABC Master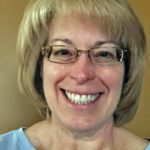 I joined the ACBL in 2010 after getting my feet wet on BBO where I was introduced to the basic SAYC system. It was my BBO friends who encouraged me to join the ACBL and find 'real' games at a local club. My first session at the Lancaster club was quite an experience – much different from online Bridge, and it was also my introduction to bidding boxes and director calls.
That first night of club Bridge was great. Oh trust me, I had a terrible game, but the director and players were extremely friendly and welcoming. For the first year, I played pretty consistently with one partner, became familiar with a few conventions, and started earning partial points here and there. On one surprising Tuesday night I earned my first overall club win! Director John teased that 'C' players are not supposed to beat 'A' players, but I was ecstatic!
Following that first year, I started playing with many partners that used a variety of conventions and carding systems. Initially, I tried to adapt to others' conventions cards, but looking back I can see that added a layer of complexity and confusion as I was trying to learn. I now have a preferred convention card to which I'm slowly making adjustments as I learn new conventions. I continue to play on BBO, primarily with a select few partner-friends there. I've also used the BBO 'Robots' to get more experience with the 2 over 1 game force system.
As the years have passed, great friendships have grown from my Bridge community. By becoming part of the Lancaster Regional Tournament Committee and most recently, the Unit 168 Board, that Bridge family continues to grow. I now realize that I may have acquired a mild addiction – because more than a few times, I've taken a day of vacation from work to play Bridge (but there are others that have a worse addiction than mine!!).
Looking back, I realize the game was never about the master points or reaching a certain level, it was about challenging myself and trying something new. That still holds true. The friendships, this sense of 'family' that developed, that's the most cherished part of my journey. My Bridge family supported me through difficult personal times, embraced me as a person, and they continue to encourage my learning of this wonderful game. It sounds cliché to say that Bridge changed my life, but it's true. Where else would I have met this diverse, intelligent, serious, silly, compassionate and maddening group of people? How else would I have developed such a wonderful extended family? Nowhere else but in Bridge!
My story would not be complete without acknowledging the huge impact a Club Director can have on the Bridge player's experience. It would have taken much longer to achieve the rank of NABC Master without the support of Debi and John Klinger who went above and beyond the call of duty in finding partners and teams, encouraging my learning and growth, and challenging me to participate in Regionals and Nationals. They are amazing people and great advocates of the game!
What I've learned in my journey, and would offer to newer players to support their enjoyment and advancement in the game, include the following:
1. Get to know the locals:
a. Your club directors are an invaluable resource!
b. Club members can become great friends and a support network
c. Get involved in your club's activities
2. Be resilient:
a. Expect failure – learn from those hands/experiences
b. Don't be intimidated by skilled players, they were once new to the game
c. Director calls are part of the game and not a personal affront
d. Practice forgiveness (for yourself and others) – all bridge players have good days and not-so-good days
3. Learn more about Bridge:
a. Log on to the ACBL website for useful information and educational materials
b. Attend lessons at your club, if available
c. Consider asking a skilled player to become your mentor
d. Borrow books from your Bridge director or other players to advance your knowledge
4. Practice and Play:
a. Play at your local club(s) and play against the best competition possible
b. Attend sectionals, regionals and nationals, if possible
c. Use BBO to practice and hone your skills