Joyce Lindley – Sectional Master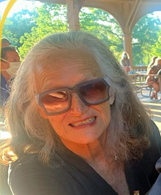 I learned how to play bridge from my mom who of course used the Goren system but I never really played much until college (Cornell) where there was always a game under way at the sorority house. It was really bad "kitchen table " bridge as one teacher recently described it. And then there was a long hiatus until I retired from teaching and took some lessons from Cindy Reed through Brighton Recreation.Cindy pushed us to get in the games at Sinai and I found I loved it and tried to play as often as I could when not subbing.
The only good thing about covid is that I get to play much more than before on my few non working days. I met a very tolerant and talented partner, John Cullen, in one of Cindy's classes and he has made a very important contribution to whatever success I have had. I really miss the in person games at Sinai and look forward to when we are able to get together again.