Karen Pollak – Life Master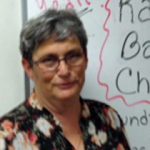 I had learned to play bridge in college and played bridge casually and rarely until 3 years ago when I retired. A friend who is a life master suggested that I might enjoy duplicate bridge. I thought, why not? I started the quest to finally learn the game via the wonderful lessons at the Bridge Studio of Delaware. It has opened a whole new world for me. I have met so many wonderful people who are now friends. I love bridge, I love the competition, I love the security of the club games, I love the sectionals and the regionals for the larger numbers and the added stress. I want to particularly thank my partners (Eileen, Jane, Caroline and Tom) for the great ride. I also want to thank the Bridge Studio of Delaware for having such a terrific venue to play and for the frequency of games.
I want to commend the district for the way the Valley Forge Regional was run this year. This is physically the closest to my home and therefore, a favorite. In the prior 2 years when I attended this regional, it was significantly less organized as far as it seemed for an attendee. This year was an absolute pleasure: breakfast was not in the middle of registration, there were signs and people to direct you to where you needed to go, etc., etc. I am looking forward to Lancaster again this year.