Ken Meyer – Diamond Life Master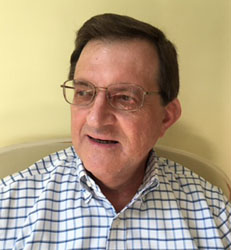 As many other people did at the time, I started playing bridge (too much) in college in the late 60's. When I was young, single, and carefree, I played tournaments fairly frequently, but usually only travelling within driving distance from my home. I was privileged to play with some of the best players in District 4 on teams and as partners. I won most of my masterpoints during this period, from 1970 – 1989, enjoying particular success in Grand National Teams at the District level. (BTW Masterpoints were available in significantly smaller quantities then than they are now.)
In the early 1970's I frequently played at the Harrisburg Bridge Club, which was about an hour's drive from my home (until I moved to Camp Hill to be closer to it), because it had the biggest and best games around. Many players there liked to play Brozel (which I repeatedly declined to play) and there were several pairs that played weak NT's. I thought (and still do) that giving up a defensive double to show power in favor of showing a 1-suiter was unacceptably inferior, especially against weak NT's. So, I persuaded one of my partners to play my "modified Brozel", using double as the traditional power showing call, 2C as a 1-suiter and 2D as hearts and a minor, covering both the Brozel 2D bid and the 2C bid that had been redefined.
Sometime in 1974 (the year I made Life Master), I was playing in a social knockout match against a team including a late well known expert from the Washington, DC area at the home of a mutual acquaintance, who was an occasional teammate of mine. When I partnered with the host, he wanted to play Brozel, but I declined, describing my modification, and also volunteering that the 2D and 2H bids could be interchanged so that 2H and 2S would have similar meanings. My partner consented to the minimum modification. Mike, the expert, who overheard our discussion, said "I like that".
When I got married in 1990 and subsequently raised a family, I went into semi-retirement from bridge, playing only occasionally and usually only when an old partner would ask me to play. During this period (1990 – 2010) I never won more than 100 MP's in a year, only in single digits in several years, winning a total of less than 500 MP's during that 20 year period. .
When I retired in 2011 and with my children now grown, I again started to play a lot of bridge, mostly club games and some local tournaments.
In my early active period, bridge proved extremely valuable to me, not only as a direct source of enjoyment, but also, as I discovered, as an excellent way to establish and maintain social relationships. I expected that it would again provide these benefits after I retired and am pleased that it has done so.