Layla Dalati – Club Master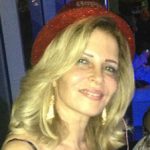 I arrived to the States on the 12 of October 2015 from Lebanon, Beyrut. I stayed more than four months before I discovered the Club in Cape May Court House and I called and I had a very nice lady on the phone, Harriette. She asked me to come and play. So I said I don't have a partner. She replied "I will play with you". So I went for the first time so uncomfortable not knowing anybody, but they were all so nice warm and welcoming that I felt relieved.
And it was my first day and so comfortable. I was playing Bridge every single day almost in Beyrut. I participated in so many international tournaments before I came here. Now I am playing with very good players here and I am so happy .