Layla Dalati – Junior Master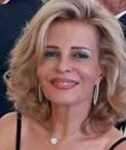 I am so glad to join the ACBL American Bridge. I came here to the States in early November and after 4 months I discovered, thanks to my husband, the Bridge Club in Cape May Court House where we live.
I joined the club and became a member of ACBL since about only 2 months. I was playing Bridge in Beirut, Lebanon before I came here 4 or 5 days a week in a very professional club in Beirut.
I shared in so many tournaments out of Lebanon in Europeans Countries.
I will be always grateful to improve my Bridge because every time its different and every day you learn something new — its never enough.