Linda Dutton – Junior Master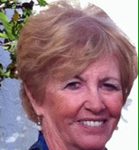 I finally joined ACBL last year. What was I waiting for? I played bridge as a teenager, college player in between lunch and my 1 pm class, ladies bridge groups, a few couples games. Then in about 2010, I decided to play a bit more seriously inspired by my sister, Marcia Bryant, a silver master, director and cruise director. I finally learned enough to be her assistant on a couple cruises!!! I also took more lessons so I could play duplicate team bridge. All along, I said "no reason to try for Masterpoints – an impossible goal!!"
My husband, Drew was the real impetus to join ACBL and be eligible for masterpoints – He said over and over- "just try- you can do it"- and so I did – and so I tried – and so I have. Hooray!!!
But…the more I played, the more I learned, the more addicted I got, the more fun it was, the more challenge it was! I play a bunch of sports (bridge is sorta a sport, right?) – golf, tennis, paddle, pickleball- but probably the most challenging and equally as hard is bridge. So… I finally joined ACBL and earned some masterpoints, (what fun!!), played in a few regional events, and played supervised bridge in Boca Raton. This program inspired me to start a supervised bridge program at my club. I was lucky enough to find Ala-Hamilton Day from our local area to teach for us. What a great find!!! She was perfect, knowledgable, fun and inspiring. That program has been a wonderful success.
Now I play 2-3 times a week, once in a while I get .45 masterpoint, continue to learn and hopefully improve. Getting masterpoints is icing on the cake. Getting a masterpoint encourages me to try to learn more so I might get a couple more!!! I love bridge and all the challenges it provides. ( plus the ACBL magazine with tons of tips and strategies is great).