Lisa Godin – Junior Master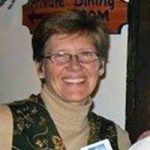 My bridge life began a few years back when a friend of mine asked if I wanted to learn how to play the game with her by taking lessons. We decided to take lessons at the local Women's club and learned just enough to be dangerous. Luckily, a friend of ours, Sally Manning, was kind enough to put a game together once a week and we continued to learn this crazy game of Bridge and become even more dangerous..to ourselves, that is!
Eventually, schedules conflicted with fun time and Bridge went to the back burner, but I was addicted. I found the Bridge Doctor website and started playing online. While some folks had no patience for my inexperience, others noted my drive to excel and helped me learn along the way and I will be forever grateful to all of them. After jumping into the shark waters, getting chewed up, spit out, and used to mopped the floor, I finally started to really understand the game…a little! I bumped into Sally months later and she convinced me to play at the Williamsport Bridge Club on the day that the amateurs got together. I braved going to the club and continued to enjoy the game for yet another year while playing with a variety of folks and learning even more insights to the game of Bridge. However, my hunger to excel got the best of me again and I finally decided to take the plunge and go back into the shark waters. This time it was at our local Bridge club on the days that our better players got together. Again, the folks were extremely supportive and I eventually became a substitute for the better players. I am currently still a sub for the club and welcome every challenge that comes my way.
While I started later in life to learn the game of Bridge my goal I to rise to the top of the player board. My drive is fierce; the game so humbling; I may have to attend Bridge Anonymous for counseling.