Marilyn Robinson – Club Master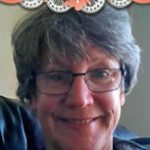 I walked into Ami Bridge (Langhorne PA) 2½ years ago clueless and uneducated.  Director Barbara Patterson in answering my phone call asked me to arrive 15 minutes prior to meet and do paperwork and assured me I was most welcomed at her new club.  The gentlemen at the table gave my friend and me an in-service on using Bridge Boxes and the games began. 
I signed up for Lessons with Barbara at the local Community College.  I ordered books and dove in.  The addiction was immediate:  This is what I want to do for the rest of my life!  Now that I'm learning the game I too love the newbies who are brave enough to come to the Adults Table and take a chance on themselves.  I found a regular partner and we entered our first tournament at Bala, coming in second in our bracket! 
I earned Junior Master points, printed out the certificate, and posted it to my Facebook page.  I blinked and now I'm a Club Master!  What an honor!  Yet Duplicate is such a humbling, learning game.  One day I join the 70% Club and score a free game and the next I'm back down in the 23%.  But I continue to go back, a good week is 3 days of play, a great week has 4. 
I never was a numbers person and started this game in the hopes that my genius husband would take up the game with me and carry us but alas, card shyster that he is he has no desire.  From what I understand that could be to keep peace in our marriage, but I can still dream about Some Day. 
With the support of Ami Bridge, chosen because the word "Ami" means friend and defines the experience Barbara Patterson wants everyone to have when they come to her club, almost every hand is a learning opportunity.  Every foursome has three teachers in in for the asking!