Mirella Dell'Osa-Capodaglio – Club Master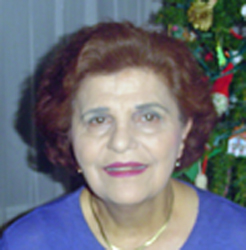 I took Bridge lessons at the local high school evening classes program and absolutely loved it right away, but only played Rubber Bridge.
Some time ago, Harry Nuckols introduced me to Duplicate and I earned a few points, but still went back to Rubber Bridge until February, 2016 when I decided to give Duplicate another chance. Although I don't have a regular partner, you could say I'm a free agent, I have played with some very interesting players, mostly with Ceil Austenfeld, the Monday night director, who is always willing to teach & mentor.
It's sad to see that here in America, Bridge seems to have lost its place of honor, but I'm glad to hear that Bridge is part of the curriculum in some European countries. How nice is that? As far as I'm concerned, besides reading, Bridge is the only worthwhile pastime.
I emigrated from Italy at 15 years of age. I am keenly aware of my heritage, the legacies and loyalties I have formed here and very glad to have taken the initiative to learn Bridge. Although I'm humbled by the game, it's always great fun!