Pat Tylander – Life Master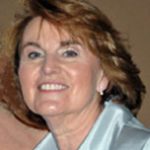 My journey to Life Master has been a long one as well as a very short period to accomplish this. Sounds like an enigma, doesn't it? I learned to play Bridge as a teenager by checking out a book from the library. Having played card games with older cousins from the age of three, I felt I knew how to play everything except Bridge. I played social Bridge all through college and then moved to duplicate after college. I went to a couple of tournaments and acquired points of color thinking I would be a Life Master. However, marriage, children, and a career in teaching meant no time for duplicate and ended the ride to Life Master.
Forty years later, I met wonderful friends in Bethany Beach and they encouraged me to return to duplicate. Bev and Jack Shubert sent me to Dini Romito who matched me with partners, served as a mentor, and made Bridge so much fun, once I had the hang of the bidding boxes and Bridgemates. However still teaching, there was only time to play a few games in the summer. Then two years ago, I retired. In 2015, armed with 60 points I set out on a Bridge mission. During this year of Bridge, I played with many different partners. My husband and I travel so it is difficult to play with just two or three people. During winters in Florida, Val Covalciuc took over for Dini and found me dozens of snowbird partners. The partners have all been fascinating people, including professional athletes, attorneys, doctors, an artist and many "computer" career players. I was so lucky to have been paired with great partners many of whom have become special friends.
Fourteen and a half months later, I went to The Sarasota Florida Regional. My colors were all in place and I needed a little under 5 points. Once again, I played with some partners that I met at Dini Romito's club and a partner from Ohio that I met from The Bridge Centre in Fort Myers, Florida. The journey for Life Master materialized February 17, 2016 with a Swiss team win! My passion for the game of Bridge will always be a part of my life!