Peter Hartogensis – Junior Master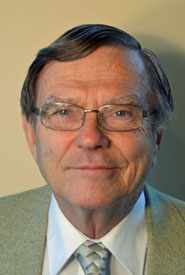 My parents were big bridge players in our hometown of Ridgewood, New Jersey, particularly my father. When I was 12 years old, my dad said it was time they taught me bridge. They played in a lot of social games, and the persistent problem was that someone would frequently back out at the last moment. I was to be the standby.
With my dad's teaching, I learned the game well and filled in when needed. I also really liked the intellectual challenge and when I started dating girls, found it was a great "cheap date." In high school I played in the bridge club and on the bridge team that played against other schools. In college, at Brown University in Providence, RI, there was usually a bridge game going on in the dorm and I was a frequent participant. I went on to law school at Georgetown, in Washington, D.C. With a friend from Brown, I played in the duplicate games around Washington. However, there were a few too many distractions. There was the course work, I clerked with two law firms, we had frequent poker games, and I started seeing this one girl regularly, who did not play bridge. We got married at the end of my second year of law school.
The marriage lasted 18 years and produced two wonderful children, and from them I have 4 grandchildren. Unfortunately no bridge players in the family.
Around 2007 I started dating a girl who did play bridge very well (she was a life master) and we started playing in the ACBL games around Washington, D.C. However, we broke up, and I started dating someone else, a non-bridge player but wonderful tennis player. We won some tennis tournaments together, and in June, 2008 we were married.
In February, 2017 I retired from law practice, we sold our house in the Washington suburbs, and moved to Bethany Beach, Delaware. Our real estate agent was an active bridge player and has introduced me to the local bridge clubs in Bethany and Rehobeth Beach. It is a wonderful activity, great for keeping the mind sharp, and also a good way to make a lot of new friends. I have been playing here now for about a month, and enjoying all of it. We play a good deal of tennis and have joined two local tennis clubs. We are both in our early 70's, and we want to keep our minds and bodies in good shape for the long haul. Bridge for me is a big part of that.