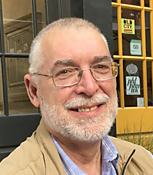 My parents played bridge, but I played my first hand in the Fall of 1969, when I was a freshman at Florida State University. The game fascinated me to the extent that two semesters later, the University sent me packing, as I had not been attending classes and had failed them all. I was an A student in high school, and this understandably baffled my parents. I was just too young, I guess, and it was the first time away from home.
A year later I joined the U.S. Air Force, where I served for the next 10 years. I started playing more regularly during that time and became an ACBL member in the mid 70s. Still, in retrospect I played very badly, as I did not really take the game seriously. By the 1980s I had returned to university and had stopped playing altogether. I did not pick it up again until I was a Post-Doctoral Fellow at Johns Hopkins University in Baltimore in the mid 90s. Three of my friends and I used to go to a bar where we played rubber bridge while we ate peanuts and threw the shells on the floor like all the other patrons. As before, I played indifferently and without much skill or passion, and afterwards I again stopped playing for another long stretch.
Fast forward to the Fall of 2017, when on a whim I played my first time at Valley Forge Bridge Center. VFBC is a fairly tough room most days, and it did not take me long to discover just how badly I still played. I am a lifelong scientist and academic and, as so often happens when I become interested in a new activity, my OCD kicked in full steam ahead. Since then I have taken a deep, scholarly dive into the game. I spend at least an hour every single day, often more, studying the game. I have accumulated about 150 books that I read and reread endlessly, working out many of the examples and quizzes presented.
Bridge has opened up a completely new chapter in my life. I just turned 68 and am approaching retirement in a couple of years. My personal life has been tumultuous at best, and this year I achieved bachelor status for the third time. I am not too proud of that. I wouldn't say I have been unlucky in love, just not good at it. Only last year I at times reflected on what my future might bring, and whether I was destined to live life out more or less alone. I have those concerns no longer. I have met the most interesting, kind, and generous people at the tables. I have been blessed with new and deepening friendships, and I play with a variety of wonderful partners with a broad range of experience. Sometimes I am the mentee, sometimes the mentor. Give a little, get a little. Bridge has also given me a renewed commitment to what to me is most important in life, that we treat all others with care, kindness, and a deep reverence for their inviolable human dignity.
Bridge is the most sophisticated, multilayered, and difficult game I have ever encountered, and while I am continually reminded that after all, It's only a game, it is so much more than that. This journey can be intimidating, but among the mundane and sometimes even discouraging results, from time to time there is a gleaming success that is inexpressibly rewarding and encouraging. Not the least of these occur when partner makes an exceptional play. I expect to be thoroughly challenged, entertained, and engrossed for as long as cognition remains intact. But as I have mentioned above, it's the relationships I have been so grateful to have found that are the most rewarding.