Robbie Dimond – NABC Master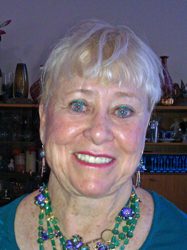 I am glad to finally get this National Master status –with the help of some great teammates from York, PA. One of them is Lois Anderson who was my tennis partner and we were ranked # 4 in the USA in the 70's tennis division two years ago. So, Basically I am a Senior tennis player [ranked in top 7 of the USA Senior Women over 75 and # 1 in the Tri-State Area and represented the USTA on our International Friendship Cup team in Austria this summer.] So, Bridge is my non-tennis sport that I like to relax and play apres tennis. It is an absorbing hobby that is endlessly entertaining!
I play mostly on the Internet at Bridgebaseonline and sometimes at the Bridge Studio in Wilmington or DuPont Country Club. Significant helpers over the years toward this goal have been: Pat Scofield of Newark, DE, Susan Shenkin, Dr. Ila Shah of Mechanicsville, Maryland , Cathy Browne and Carol Smith of York, PA.