Sam Maitra – Emerald Life Master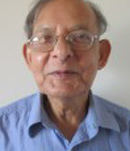 Samaresh  (Sammy) Maitra was born on December 13, 1938 in a small village in East Pakistan, now Bangladesh.
He was the youngest of 19 children. He remembers a very happy childhood- he would get one tennis ball for the year and the whole village turned out to see it.
He and his family migrated to India and settled in Calcutta. In 1961, he won a scholarship to the University of Maryland to do his Ph.D in Physics. Here he was introduced to bridge, and with his background in mathematics became fascinated with it.
He moved to Rochester as a post-doctoral research fellow at the University of Rochester, and began playing bridge in earnest. He met and married Yashu who claims, quite erroneously, he adds, to be a better bridge player than he is.
Sammy says, 'Bridge has given me an intellectual challenge, but more than that it has given me a sense of community and has led to lifelong friendships'.
Yashu adds: His passion for the game and calm demeanour (haha) are well known in the Rochester bridge community.
He plays with a great variety of partners, and is unstinting in his praise of them. He congratulates at least 50% of their plays at least 25% of the time.

He is equally grateful to his opponents, without whom he could not have achieved this milestone. Yashu often jokes that he should clone himself and play with his clone, but she shakes her head, he would never agree that the clone was as good as he. |
Seriously though, he truly loves the game and the Rochester bridge community.
Sammy has the last word: I could not have done it without Yashu's love and support, and for her unique ability to create a bottom board out of a top.