Sharon Laas – Life Master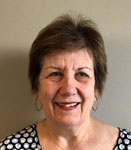 About 15 years ago, I started hearing about how great bridge was from two whitewater paddling friends who had had to give up the sport and whose energy and enthusiasm was now focused on this new endeavor. A short time later, I met another former kayaker at a dinner party who was also touting bridge. Since I was contemplating retirement in another year or two, I thought I might give this a try.
It started with the former kayaker and his bridge partner organizing weekly social bridge with a mini-lesson to start. We needed a fourth, and I eventually recruited a retired friend from work (and future regular bridge partner) to participate. Eventually my friend and I discovered the Intermediate lessons at the Bridge Studio of Delaware, and avidly pursued their course of Intermediate, and then Advanced Lessons which were invaluable.
Meanwhile, we continued to play weekly social bridge with a strong emphasis on analyzing interesting hands regarding the bidding or play of the hand. Eventually my novice partner and I tested the waters at a few local bridge tournaments.
Once I retired, bridge turned out to be a great outlet for mental stimulation, protracted focus and memory improvement. Learning the various bidding systems was like learning a foreign language while play of the hand was a great way to challenge one's memory powers!
Becoming a life master was a long term goal, but not a priority for me. I'm still an avid white water kayaker and kayak instructor. So I mainly played in Sectional, Regional or National tournaments that were easy day trips from home such as the Philadelphia National (where I won my first gold points), and tournaments in Hunt Valley, MD; King of Prussia, PA; Lancaster, PA; and Wilmington, DE.
The most recent tournament in Fort Myers, FL where I finally made life master was the first "away game" I ever attended.
Besides the instruction at the Studio, I've also spent many hours of practice using Bridge Baron for Mac on my computer, reading the Bridge Bulletin, and a few bridge books. By and large, however, my primary partner and I have generally stayed with the systems that we learned in the Intermediate and Advanced program at the Bridge Studio of Delaware.