Shirley Lutz – Sectional Master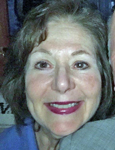 My parents who still play and love the game of Bridge, became Life Masters when only 300 points were needed. Now the requirements have risen to 500 points. Both numbers seem unattainable at my age, but I continue to play Bridge because it's fun (especially when you are winning), challenging, and has enabled me to meet and friend new people! I also play on BBO with my mother, who has helped me enormously with the game.
I belong to Berks-Montgomery Unit 121. I was the Board Treasurer for over two years and continue to be a Board member. I began taking Bridge lessons when I read an advertisement in our local newspaper, for Bridge lessons. My husband and I took the lessons as I would be retiring in a couple of years and thought it would be a good retirement activity. That was about six years ago and I have accumulated 89 master points and the new rank of Sectional Master. The thing about Bridge is I can be in the top two on Monday, and in the bottom two on Friday. Both results keep bringing me back. Why? Because of the reasons stated in the first paragraph!