Tom Mulgrew – Life Master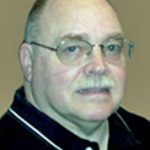 I started playing bridge in the '60s. A co-worker taught three of us during lunch hours. I played some duplicate and party games and started to play seriously in the '90s. I have been playing with one of my present partners for about ten years. Three years ago we decided to form a partnership and began playing together a couple of times a week. This allowed us to get a feeling for each other's bidding and play and to practice our conventions. We went to Sectionals and Regionals to earn Red, Gold, and Silver points. This year we went to a tournament in Toronto for two days, May 26 and 27, 2 sessions each day. I needed 1.28 Master Points. We won the last session and earned 1.93 Gold and 1.93 Red.
For me, Gold points are the hardest to get. Gold Rush and Swiss Team games provide a good opportunity to earn these.