Mita & Team Win Bracketed Round Robin Teams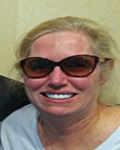 When District 4's Lisa Mita finished the Friday Open Pairs, she had a slight problem.  Her partner had left the tournament to deal with a variety of personal issues…  and Lisa was scheduled to play in the Sheila and Russ Ekeblad Saturday 0-3000 Bracketed Round Robin Team game on Saturday.  With teammates, but no partner, it was a 3-person team with the event starting in 15 hours!
Fortunately, she was in a good place to find help.  On Friday night, the place to be was the Club and Teacher Reception in the Waterplace Ballroom.  Lisa and her teammates are all bridge teachers.  So why not ask the gathering if anyone was qualified and available to fill out the team?  When the announcement was made over the microphone, Keith Thompson raised his hand to volunteer.  He was in Providence to play in the GNT finals, and like many, had not made the cut after the first day.  He was eager to play another team game, so quickly volunteered.
After introducing themselves, and a brief exchange of system preferences, Lisa introduced Keith to his new teammates.  All four are bridge teachers with a passion for teaching, and for helping new players become excited about the game and continue improving.  Now the team was set:  Kathy Rolfe, Lake Winnebago MO, Phyllis Siegel, St Louis MO, Lisa Mita, Berwyn PA, and Keith Thompson, St. Paul MN.
Comparing scores after the first round robin, the team was slightly behind the field, with one win and one loss.  The team proceeded to win the remaining six matches, with one of those wins being a blitz.  After turning in the scores for the final two matches, the director informed team captain Rolfe that they had won.  No team with results outstanding could catch them.  The team put together at the last minute had done it, winning their event, in the top bracket, no less.
There is a disparaging slogan that goes, "Those that can play well, play, and those that can't,  teach."  If you feel this way, you had better watch out.  These teachers practice what they teach.  And their students will be coming for you!
Congratulations Team!