A few of the website's features are described in this article.  Using the new District 4 website is easy.  Take a few minutes to click around and see all that it has to offer!
---
Information is organized primarily in 2 drop-down menu bars.

.
..
..
---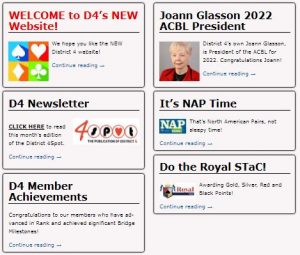 Current events and a few regular features are highlighted in the body of the page.
.
.
.
.
.
---
The regular feature, "D4 Member Achievements", contains 4 categories that are updated monthly.
Rank Advancements for the current month
D4 Top 100 lifetime point earners (face to face PLUS online)
D4 Grand Life Masters
---
Choose the "D4 Calendar" selection to view a full year listing of our tournaments.  Notice that 2 previous years are available, with a link to results from those past tournaments.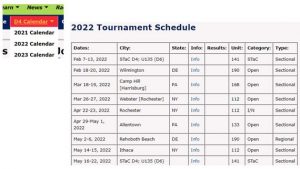 a.
.
.
.
.