Phil Greco – Gold Life Master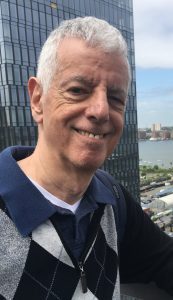 I first learned bridge in college, but played infrequently. By the time I hit 40 I had well under 100 points and it looked like I would never reach Life Master. Nevertheless, I enjoyed playing bridge at home with my wife Carol and our children, Eric and Bonnie. After taking Eric to his first duplicate game, he became hooked and we played together during his high school years. By the time he graduated high school he was King of Bridge and we were both Life Masters—I got mine about a week before his, undoubtedly the last time I will ever beat Eric at any bridge milestone! Bonnie, 4 years younger than Eric, accompanied all of us to National bridge tournaments, found a partner her age, and wound up winning a $5,000 college scholarship for children under 13 years old from the ACBL.
After Eric went on to better partners, I played bridge less. When my wife and I retired and moved to Philadelphia in 2013, I had hardly played for a decade. I started playing again, much more often than I had ever done, and I was lucky enough to meet and play with many good players who became my friends and who helped me improve my bridge game significantly. I achieved my last couple of Life Master levels living here. Besides my gratitude and love toward Eric, I would also like to give my thanks in particular to Scott Brown, Mike Giesler, Alison Brandt, Bruce Lang, Mark Bolotin, Lynn Condon, Ala Hamilton-Day, and John Williams. Also my thanks to the BBO robot who was always patient with me, never criticizing any of my bids or plays, and whose occasional psychotic bids would be a reminder to me to keep my sense of humor while playing bridge. Most of all I would like to thank my wife Carol, my occasional bridge partner and nearly 50 year life partner, for her love and encouragement.