John O'Rourke – NABC Master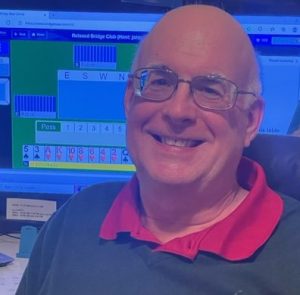 2021 was a very successful bridge year for me.  For which, I want to thank my bridge partners who have helped me to achieve two rank changes this year:  David, Christina, Pam, Mary, Becky, Karen, Susan, John and my wife, Mary Jo.
I've been playing competitive bridge now for 27 months and have played over 650 games.  In 2021, I played 401 competitive bridge games some live but mostly online.  I received over 200 masters points in 2021 of various colors.  My partner, Christina, and I finished 3rd in the NAP Qualifying and will be playing in the Championships in Reno, Nevada representing District 4 in Flight C.
I played my first face-to-face bridge game this year on July 5 at the Shore Bridge Club and I regularly play live at the West Deptford Bridge Club.  Most of my play in 2021, however, has been online (over 90%).  That is likely to continue since there are only 2 clubs with live bridge close to my home.  I was happy that the ACBL eased restrictions with guest play at online Bridge Clubs.  I don't think allowing online guest play significantly impacts live play and traveling for live play is not always practical.
I look forward to continuing my online and live bridge play with my partners and, although it will be challenging to obtain the red/silver/gold points needed to advance, it's part of what makes the game enjoyable and challenging.