Pam and Lance Rozsa – Junior Master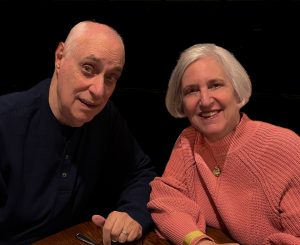 Lance retired in 2017 and I semi-retired in 2019.  We wanted to find something we could enjoy learning together, both for mental acuity and for social contacts. I played bridge in college, but not since, and Lance never played bridge.  Lance is a "strategic" thinker and I felt he would enjoy the challenge of learning bridge.   We were thrilled to find lessons with Sara Gainey, who is a wonderful teacher.  We began lessons in Spring 2019.  And then…Covid hit.  We continued learning using BBO and Betsy Cutler offered us online mentoring with another couple.  This was invaluable to us as new players.
As you all know, Covid prevented in person play so we participated in online games offered through the Unit on BBO.  We slowly began getting points — thanks to stratification — but our goal has always been to learn.  Last Spring and again this year, we are fortunate to be mentored by Mimi Lengel and MaryJo Stoffet.  Both ladies are extraordinarily knowledgeable and patient, patience being the higher virtue.   Remembering bidding rules and conventions is, at times, difficult and mistakes happen (like the time I passed MaryJo's "double" not remembering it was a forcing bid only to have the opponents' contract results doubled).  We open hands after each board and discuss how we might bid the hand differently, count losers, and different play strategies.  We know our bidding and play of the hand has improved because of their mentorship.
We also play at Brookside Country Club on Wednesdays with a marvelously kind group of players whose skills and sense of humor allow us to grow as players.  Sara Gainey is the director and offers a lesson before each game.  With the ebb and flow of Covid, our attendance has been more sporadic than we'd hoped, but we're committed to continuing to learn with this fun group of players.
The journey of learning and playing bridge has been a more bumpy road than we expected, but we plan to continue to grow with lessons, mentoring and games.