Dan Boye – Grand Life Master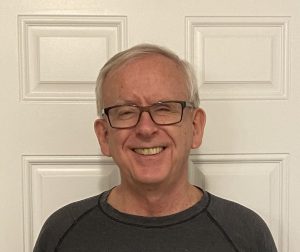 I started playing bridge in the lobby of my college dorm because Ellen needed a 4th and explained to me that Aces were 4, Kings were 3, Queens were 2, Jacks were 1 and it was my bid. THAT was my introduction to bridge and dating Ellen.
Bernie Gorkin was a player in that game and he told me about the Syracuse Bridge Club and suggested that I should get a partner and go play. Jean, my first wife had been playing bridge for a short time and knew the basics of the game but she, too, had never played in a club game. So, we started and I started reading bridge books.
Friday nights became bridge night at the SCBC. There we met another new bridge couple – Tim and Judy – who quickly became our teammates when we graduated to sectional tournaments, and we never missed one! I think what really piqued my interest in playing more bridge was the very first GNT event. 3 teams from Syracuse rented a bus and traveled to Bethlehem, PA to play in the District finals. Our team had a total of 200 MPs but we were excited to play. The final 2 teams left standing on Sunday evening was a team from Scranton (all I recall is Sheldon Justin and Dr Weltman) and our team. The star players from our bus ride (Fred Neuburger and Walter May team) lost to our team in the semifinals. OK we got crushed in the finals but Dr Weltman was very generous with his compliment when he told me after the match that I would become a very good player and would even have a chance to win a National event. I was hooked!
Upon returning to Syracuse I started playing more club games – 4 games/week.
It was then that Fred Neuburger, Bernie Gorkin and Mike Edwards took me under their wing and played club games and sectional tournaments with me.
When Fred and I led the Toronto LM pairs after the first day – which carried us to qualifying for the final day – I wanted more even after we fell well out of the overalls.
I have had successful partnerships with Bernie, Fred and Mike but my most successful and longest standing was with Sue – my second wife. Sue and I started traveling to more Nationals and always playing in every NABC event. Sue loved the competition as much as I and we shared the aspiration of winning a National event. Our goal was to make the final day of every pair event and then simply compete and enjoy.
When Sue passed away, the void was not only present in my personal life, but my bridge life, as well. We had been playing together for so long that there was no regular partnership for me. Larry Sunser and I rekindled a partnership that we had before I started playing with Sue and through Larry and District 4 tournaments I have been fortunate to find excellent partners and teammates to continue my bridge pursuits. Jay Apfelbaum, with whom I have shared several top 10 finishes in NABC pairs events but once the pandemic started there has been a group of excellent players who kept good bridge alive through on line team games. Bob and Joann, Meyer, Marc, Rick and Marty, Mike and Lou, Larry and Abe and Alex. This group shared Monday, Tuesday and Thursday evenings along with Saturday and Sunday afternoons to keep all of our heads in the game. It is this group with a special "thanks" to my Senior Swiss teammates that allowed all of us to continue to play the game we love at a level that improved all of us. Without the pandemic and these friends who can say if my dream of winning an NABC event and becoming a Grand Life Master would have ever become a reality. District 4, Unit 112 and the SCBC share in this achievement and for all of those all I can say is "thank you" for giving me a place and a chance to play.