2023 D4 Charity Committee Appointee: Ann Smallen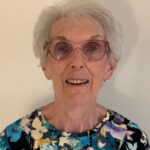 During the early part of the Covid Pandemic, as clubs were working to make games available on BBO, it would have been easy to take an "every person for themselves" attitude.  However, Ann Smallen, when asked to help a club in Roanoke VA get their virtual games off the ground, eagerly provided assistance.  You see, the owner of the local club had become ill and died, leaving the players who took over the club ill-equipped to do all the computer work needed to set up a game and report results to the ACBL.  No problem – Ann provided detailed information and also had them watch her during the set up and directing of her virtual games to help them learn the ropes.
It may seem a small thing that Ann did, but it made a huge impression on our bridge friends in Virginia!  With Ann's assistance, their virtual club was successfully launched, and the local players again had the option to enjoy playing bridge – virtually – with their friends from the local club.
Ann's deserves this recognition for her charitable spirit of supporting others while expecting nothing in return.
---
Ann's Backstory:
I first learned bridge back in the early '60's while a student at SUNY Albany where I was studying to teach mathematics.  Upon graduation my husband and I moved to Rochester where I taught at Monroe Community College.  For the five years that we were there we learned to play duplicate bridge and participated in the University of Rochester games as well as playing socially with other U of R graduate students.  We moved to Clinton, NY in 1972 and have resided there since.  I played social bridge for 20 years while I taught at Mohawk Valley Community College.
In the '90's my husband and I decided to take up duplicate bridge again and we found 3 clubs to play with in the Utica/Rome area.  After my retirement I was able to play more frequently and in 2008 I became a life master.  Our local clubs were in need of more directors so in 2010 I took and successfully passed the Club Director Test.  I began directing regularly at our local clubs and I also joined the board of the Mohawk Valley Bridge Association (MVBA) where I have served several roles including secretary, vice president and President.  I am currently President of MVBA and also act as Club Manager.
In 2013 I became a Bronze Life Master and in 2022 I became a Silver Life Master.  In 2017 I successfully completed the ACBL Club Director Update Course.
When COVID hit in 2020 and clubs were forced to close down, MVBA needed to find another way to operate.  One of my club members and fellow director, Mike Mihevc and I decided to set up our virtual club with the help of ACBL.  We were able to successfully get our players online and were able to continue to offer bridge twice weekly to our members.  We currently offer one virtual and one F2F game weekly during the non-winter months and two virtual games during the winter months.
In addition to directing for the MVBA F2F and virtual games I also direct BBO games for The Villages Duplicate Bridge Club in Florida as well as a F2F game.
When Betty Youmans contacted me to see if I could help the Roanoke club through their difficult times of having to essentially start over I was more than willing to help.  Working with Carole Spencer and her associates we were able to get their virtual club up and running and I was able to offer some advice on F2F issues as well.
One of my duplicate bridge friends has always referred to the MVBA as a "family" and I agree with her.  As a family we help each other out when we can.  Helping out the Roanoke Club as I did was just me helping out my "extended " family.  It was my pleasure to do so.