2023 D4 Goodwill Committee Appointee: Sue Manning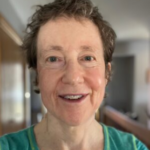 With a background in technology, Sue Manning recognized her ideal skill set and offered to assist the ACBL and online bridge groups, with critical upgrades.  This resulted in Sue volunteering as an integral member of multiple bridge technology teams, contributing to EDGAR (online cheating detection program), Shark Bridge, and The Common Game.  More recently she was  participated in a prioritization assessment with ACBL Information Technology.
Her many hours of effort are 100% volunteer, and all for the improvement of bridge.  She is making an amazing contribution to our game.
---
Sue's Backstory:
Sue Manning is a frequent volunteer in the world of bridge with a background enabling her to help with technical problems in support of online bridge.  She studied Computer Science at Cornell and Rice Universities, earning a Masters Degree from Cornell. She spent her career in Silicon Valley as a systems programmer for Xerox, Taligent, Sun Microsystems and Apple.
Consequently, Sue was well-placed to help the ACBL when the pandemic forced the bridge world online.  She worked behind the scenes to help Jay Whipple and The Common Game launch the VACBs and later on the Big Team Games platform used for online team games such as GNT trials.
Additionally, Sue has provided some development for Milen Milkovski on Shark Bridge for their teaching platform now used by Adam Parrish and other top instructors.  She also served on the ACBL Board technology review committee in Fall 2022.  Most recently she is writing code for Franco Baseggio and Brian Platnick for the EDGAR anti-cheating package, currently in development., and scheduled for launch by ACBL early in 2023.
As a member of ACBL, Sue understands the importance of contributing her skills to help the organization.  Volunteer support like this is essential to the success of the ACBL.  Jay Whipple commented "Sue is an extremely talented, tireless, and tenacious team player who just says "yes" when asked to server on bridge/technology related projects.