John Nothdurft – ACBL Regional Master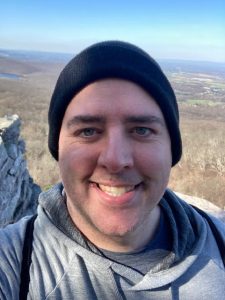 I started my Bridge journey in 2013. One of my great annoyances in life was reading the Bridge column in a newspaper and not having a clue what any of it meant. I was a good card player (Spades, Euchre, Pinochle, etc), but knew nothing about Bridge. 9 years later I feel at times that I still know very little about Bridge, especially when getting set in a cold 3NT, but I'm able to fake it a whole lot better!
Just turning 30, at the time, I didn't know a single person my age who played the game; honestly, I still don't. But I started reading every Bridge book I could get my hands on and eventually showed up to Jeannie Ryan's "Shuffle and Deal" beginner sessions at the South Jersey Bridge Club in Cherry Hill, NJ. It didn't take me long to pick things up. Bridge is complicated, though. As soon as I got the basics of bidding down, I learned how important signaling and defense were; I'd then focus more on those concepts, and unsurprisingly, would forget most of the bidding. Eventually it all started to click together and I'd win my share of "750" games, while learning to compete better in the bigger open games that followed.
A few years later, I earned my TAP certification in 2016, then my club director certification in 2018. I attended my first NABC event in Philadelphia in 2018 and ran the Vu-Graph for some of the prestigious Vanderbilt tournament, getting my first introductions to many of the "Who's Who" in the Bridge world.
With the help of my other board of directors members, I helped open a small non-profit Bridge club in West Deptford, NJ in 2018 to encourage people in my little corner of the state to develop their Bridge skills and transition from purely social games to a more structured, yet still fun and affordable environment. My motto of "nobody really cares about your minor suit" started to resonate with some of our players, and over time the level of Bridge in our community has improved tremendously from top to bottom!
My biggest accomplishment in my Bridge career so far was doing what I could to help keep a number of clubs throughout our district up and running online during COVID, via helping to direct games or working with members at these clubs to get everybody set up on BBO and solving various tech problems that they would run into along the way.
I've been putting a lot of focus on finishing writing my beginner book on Bridge that I use when I teach, because I want to do what I can to make sure Bridge is still around far into the future. I've had many of my students over the last few years compete in various sectional, regional, and national events, and seeing them do well means so much more to me than my own results.
While I'd love to play more and develop my own game, working full-time outside of Bridge limits me to mostly filling in as a sub when players come to my club games without a partner. Moving up the rankings for me will be an eternally slow process until retirement comes along in 25 years, but I continue, undeterred. Finding a few hours of free time here and there to visit friends at other clubs and tournaments is a blessing. Making other players happy is my goal in Bridge, and I hope I've done that for all of the clubs that I've been associated with.