Ellen Luchette – Advanced NABC Master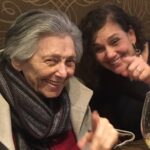 This year I started working towards my next rank, always with my forever partner in my heart (my mother, Lila Gleitman), and new partners who she would have adored. For me, lessons with the great Joann Glasson, John Dickenson, and Lisa Mita were key to my success. Further, going over boards after club games with my partners (Bob, Carl, Emily, and Toysie) has been another incredible tool. As Bob says, "Play steady and avoid bottoms," has made a big difference.
It was a great experience to compete in the NAP C Flight in New Orleans.  I look forward to traveling to many more Regionals this year and also to becoming a Life Master.