Gerry King – Bronze Life Master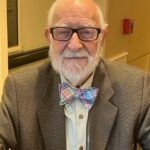 At 94, I am pleased that I finally made Bronze Life Master.   My late wife and I took bridge lessons many years ago when the children were quite young.  It was one of the best things we ever did.  Not only did we keep our minds active, but got to meet a lot of nice people (also occasionally some not so nice).
I had a job as a community pharmacist (before the big chains) and did not have a lot of free time.    We got another couple and went to the Cheltenham High School adult education lessons.   The other couple became dropouts, but we continued taking more lessons, playing and eventually were introduced to Duplicate.  I really didn't get serious about bridge until many years later after my wife had passed away (13 years ago) from Alzheimer's and other bad stuff.   Bridge became my life.  Really, I became addicted.  Someone asked me how many times a week I played and on reviewing, it had been nine times that week.
I went to Philmont Country Club a couple of summers for Bridge Camp with Joann Glasson.   I got my gold with my late bridge partner, John Bravo.   He passed in July 2022 and I really miss him.  And with Covid, (we didn't and I don't) play online, it has been a struggle to make Bronze but I'm happy that I finally made it.   Here at Rydal Park there is a lot of bridge played but it is social – much different.