Deborah Farkas – Junior Master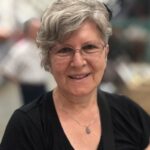 My much older neighbor told me I should learn to play bridge when I retire.  So at age 60 I took my first bridge class. I liked it right away even though I had not been a card player and had to learn how to shuffle.
When I moved to the Philadelphia area I took Bridge classes, beginner I and advanced beginner at Mainline School Night.  I started to played casually with some of my classmates.
After KOP Bridge Club opened , when Covid was calming down, I started playing duplicate bridge with a partner found for me by the club. It was a bit of a shock at first but I persisted.  I try to improve my playing by taking some of the classes offered at KOP.  I hope to keep accumulating points little by little.  I think the club is great !