William Evan – Junior Master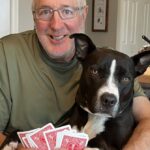 My bridge journey is a bit unusual.  In 1988, a group of engineers decided to teach ourselves bridge with Charles Goren's book as our guide.  We played at lunch for a few years until lunch hours became lunch half-hours.  Then my only bridge for nearly thirty years was against early computer robots or on my smartphone.
After retiring in 2021 I began playing bridge at the Senior Center and library in Hershey PA.  I had an unrelated but very negative volunteer experience that freed up my time. On a whim I drove to the Harrisburg Bridge Club on March 20th of this year.  Pam and Jack were incredibly welcoming and described the guarantied partner policy.  As fate would have it my first experience was in an open session.  I had never played duplicate before or used a bid box.  My partner, Sam, could not have been nicer.  I was so nervous.  My goals for the day were not to revoke or have the Director called on me.  On one of the first boards I missed a transfer to hearts and left Sam in a doomed 2 Diamond contract with a combined six trump.  Sam just smiled and said "Thank you partner."  The director was never called that day nor did we finish in last place.
After the session Pam and Andre spent time with me to answer my questions and provide invaluable guidance.  The kindness and understanding shown to me that day made joining the club an easy decision.  I have been a regular at the club for the last month and a half.  Depending on traffic the one-way commute is 35-45 minutes, but the club is such a fun place to be.  There are dedicated volunteers that keep the club running smoothly.  There is an emphasis on civility, and I have had the opportunity to play with many partners.  Masterpoints are nice, but establishing bridge friendships is the real reward.